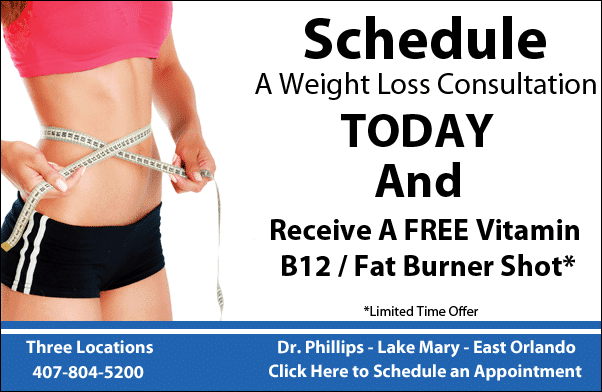 Welcome to The Leading Medical Weight Loss Clinic in Orlando, Florida!
Start Burning More Fat Today!
Svelte Weight Loss Center provides you with Orlando medical weight loss support, medically supervised Orlando weight loss programs and strategies you need so you can lose weight with NO Surgery! No Hormones! No Starvation! Svelte Medical Weight Loss focuses on insulin stability levels. We are able to help our patients achieve this goal by directing them to eat foods that won't spike your insulin level. When insulin levels are low, fat is burned instead of sugar and hunger is controlled.
Dr. Bragg is a board certified medical doctor that was trained and educated in the United States of America. He has already been his own patient for the Svelte Medical Weight Loss program, and he successfully lost over 40 pounds.* If you're interested in Orlando medical weight loss, contact the professionals at Svelte today! We'll be happy to set you up with a customized program that will leave you happy and healthy!
Click here to see our new menu
Awesome People, Amazing Stories
View real testimonials by some of our clients! Feel free to send us a happy story of how you were
able to lose weight!
More Happy Patients
Testimonials
Jackie

Everything has been going really well with my weight loss experience. The office staff is great and my appointments are always timely. I really liked the summer cook out cookbook. Thanks so much!*

Pennie

I've been very pleased with the service and amount of weight I have lost.  Each time I visit the office, everyone is very friendly and personable. I especially thank you for not having a long wait time in the lobby!*

Eva

I couldn't feel better! I am going into my third week and have already lost 8 lbs.*

Debbie

The staff was always very helpful during my weight loss journey and appointments were never an issue, even with my busy work schedule. The program worked well for me and I will continue to come in for maintenance as needed.

I'm glad I took the time to go through your program and recommend it to my family and friends!*

Stacy

I had an excellent experience. I felt very comfortable and welcomed! Everyone was helpful and kind.*

Angela

I love coming to Svelte. Everyone that works there is very encouraging and always have a positive attitude.*
*These are individual results and your result on the Svelte program may vary.