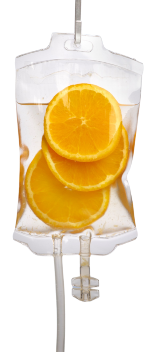 Get the Best IV Therapy in Orlando Now!
At Svelte, we now offer IV Hydration Therapy in Orlando, FL. We have 3 IV lounge locations in the area for you to choose from.  Find a clinic address near you. We are convenient to many central Florida areas.
Our clinics offer customized treatments tailored to each individual's needs and health goals such as hydration therapies, immune-boosting infusions, energy boosters and more.
Don't Miss Out, Book Today!
The benefits of IV therapy include:
IV therapy is incredible for immediate relief of:
Now available on an appointment basis. Call or contact us on social media.
Infusion Services and Intravenous Therapies
How Does our IV Treatment Work?
Intravenous treatments work by administering fluids directly into the bloodstream. This leads to faster and more efficient results than going through the gut and digestive tract. The appointments last for one hour and will be monitored and supervised by an APRN! All of our bags are used with 1000ML saline. High grade solution infused while you wait.
IV therapy can be used to treat dehydration, electrolyte imbalances, vitamin deficiencies, and many other conditions.
What IV's does Svelte Offer?
Svelte Signature
(Original Myers Cocktail)
One of the most popular IV treatments! Dr. John Myers was the first to create this cocktail in the 1960s, leaving the world with the "banana bag!" This therapy helps combat and treat: Low energy, fatigue, nutrient deficiencies, migraines, and hangovers!

This essential drip promotes healing. Give your body what it needs. Don't rely on food alone for your health and nutitional needs.
Time to create a forcefield of immunity! Shield and fight away the flu or cold from ruining your valentines season! Not only will this boost your immune system but it will also make you feel better faster!
Time to take hydration to a new level! This hydrating IV drip is perfect for combating dehydration and the fatigue that comes along with it. Highly supplements recommended for our Svelte Sema slim patients (Semaglutide), or anyone who struggles to get all their water in. It's the quick cure for cellular revival.
With Vitamin C, you will get an amazing glow! Here is a list of vitamins and nutrients included.

Ascorbic acid - 500mg/ml
Thiamine (B1) - 100mg/ml
Niacinamide (B3) - 100mg/ml
Riboflavin (B2) - 2mg/ml
Pantothenic acid (B5) - 2mg/ml
Pyridoxine (B6) - 2mg/ml
Magnesium Chloride - 80mg/ml
Zinc - 1mg/ml
Manganese - 0.02mg/ml
Copper - 0.2 mg/ml
Selenium - 8mcg/ml

Your skin will thank you. For all the people who struggle with sleep, anxiety, and stress! You can also use this to minimize bloating, gastrointestinal irritability, abdominal discomfort, and lower back pain.
As a current Svelte patient, you can always receive 15% off any of our drips!
Not a current patient? Find out about our other programs like B12 injections and fat buring injections.
It is important to consult with a medical professional before undergoing IV therapy as it may not be suitable for everyone.
*Please check with your medical provider or our staff about any medication interactions, current care concerns or are being treated. Please discuss any recent diagnosis, major injury or wellness problem before booking an appointment. If you are receiving injections or other IV drugs intended to treat cancer, please make us aware.
Prices for IV therapy can vary depending on the type of treatment and length of time needed, so it's important to do your research beforehand to find a clinic that fits within your budget.
Insurance coverage for IV therapy treatments. We currently do not accept insurance for IV therapies. Side effects may include nausea or dizziness but these usually subside quickly after the infusion is complete.