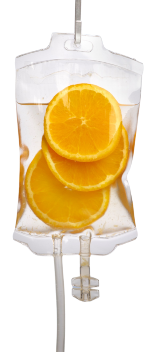 Get the Best IV Therapy in Orlando Now!
At Svelte, we now offer IV Hydration Therapy in Orlando, FL. We have 3 IV lounge locations in the area for you to choose from.  Find a clinic address near you. We are convenient to many central Florida areas.
Our clinics offer customized treatments tailored to each individual's needs and health goals such as hydration therapies, immune-boosting infusions, energy boosters and more.
Don't Miss Out, Book Today!
Low energy, fatigue, stress/anxiety, inflammation, fibromyalgia pain, vitamin deficiency, migraines, hangovers, and malabsorption issues.

Key Ingredients

High dose of B Vitamins
Vitamin C
Calcium
Magnesium
Dexpanthenol
Helps with dehbydration and fatigue. This IV reduces inflammation, aids in detoxification and help treat hangovers.


Key Ingredients

High dose of C Vitamins
B Vitamin Complex
Magnesium
Mineral Blend

Manganese
Copper
Selenium
Boost the immune system, and strengthen the body's defense to help those fighting an infection/ chronic inflammation.


Key Ingredients

High dose of Vitamin C
B Vitamin Complex
Zinc
Mineral Blend

Manganese
Copper
Selenium
Purely Saline (Start Here)

$80

The best IV therapy choice to replenish lost fluids from dehydration.
Symptoms alleviated:

Cold/Flu
Hanover
Athletic recovery
Migraines

*This saline IV bag doesn't include any add-ins
IV Ondansetron (Zofran)

$39

A powerful anti-nausea medication that gives immediate nausea and vomiting relief.

IV Famotidine (Pepcid)

$45

Famotidine (Pepcid) is a popular heartburn medication that works by targeting histamines. Histamines interact with your stomach acid and excites them leading to acid reflux. IV Pepcid will give immediate relief to symptoms like heartburn, upset stomach, belching, and stomach bloating.

L-Taurine is an essential amino acid that acts as a metablic transmitter. The body can stop producing it in times of stress. It is a strong detoxifier and aids in glucose metabolism by increasing the activity of the insulin receptors. This is a good option for diabetics and those with insulin resistance. It also improves fat metabolism in the liver and helps decrease triglycerides and LDL levels. It also works on receptors in the brain to promote relaxation.

Magnesium - Known as "the relaxation mineral," magnesium may help with lowering stress and anxiety and getting a better night's rest. Helps nerves, bones, muscles, gut and heart relax.
B-complex - Helps fight fatigue, converts carbs to energy, and breaks down fats. Maintains normal nervous system function.
Vitamin C - Immune boosting and antioxidant properties. Helps with collagen formation. Protect cells from oxidative stress. Increase iron absorption.
Zinc - Regulates the immune system. Decrease the length and severity of a cold. Supports tissue health and reduces inflammation. Reduces oxidative stress and inflammatory proteins which can reduce your risk of chronic inflammation. Helps heal wounds. Helps reduce viral symptoms.

Mineral Blend (Manganese, Copper, Selenium)

$30

A mineral blend that helps reverse the effects of dehydration, remove toxins, and replenish vitamins.

Manganese: reduces inflammation.
Copper helps maintain bones, nerves and immune function.
Selenium reduces free radicals and aids in heart health and mental function.
Sema-Rescue (for Current Patients)

Only $100 (valued at $139)

Our Sema-Rescue Bag was specifically formulated for patients who are currently taking semaglutide and suffering from side effects such as nausea, vomiting, dehydration and abdominal cramping.

This bag comes with B-complex and Ondansetron (Zofran 2mg-4mg), a powerful anti-nausea medicatioon that eases nausea and vomiting.

Fast nausea relief.
Energy & Hydration

IV Ondansetron is more beneficial than tablet form because it is delivered directly into the bloodstream and give immediate relief from anusea and vomiting.

This works by blocking a neurotransmitter that stimulates a part of the brain and gut which controls feelings of nausea. B Complex Vitamins (B1, B2, B3, B5, B6) help fight fatigue, reduces inflammation, and aids in rehydrating your body.
Infusion Services and Intravenous Therapies
How Does our IV Treatment Work?
Intravenous treatments work by administering fluids directly into the bloodstream. This leads to faster and more efficient results than going through the gut and digestive tract. The appointments last for one hour and will be monitored and supervised by an APRN! All of our bags are used with 1000ML saline. High grade solution infused while you wait.
IV therapy can be used to treat dehydration, electrolyte imbalances, vitamin deficiencies, and many other conditions.
Not a current patient? Find out about our other programs like B12 injections and fat buring injections.
It is important to consult with a medical professional before undergoing IV therapy as it may not be suitable for everyone.
*Please check with your medical provider or our staff about any medication interactions, current care concerns or are being treated. Please discuss any recent diagnosis, major injury or wellness problem before booking an appointment. If you are receiving injections or other IV drugs intended to treat cancer, please make us aware.
Prices for IV therapy can vary depending on the type of treatment and length of time needed, so it's important to do your research beforehand to find a clinic that fits within your budget.
Insurance coverage for IV therapy treatments. We currently do not accept insurance for IV therapies. Side effects may include nausea or dizziness but these usually subside quickly after the infusion is complete.
Benefits of IV Therapy Include
IV therapy is incredible for immediate relief of: