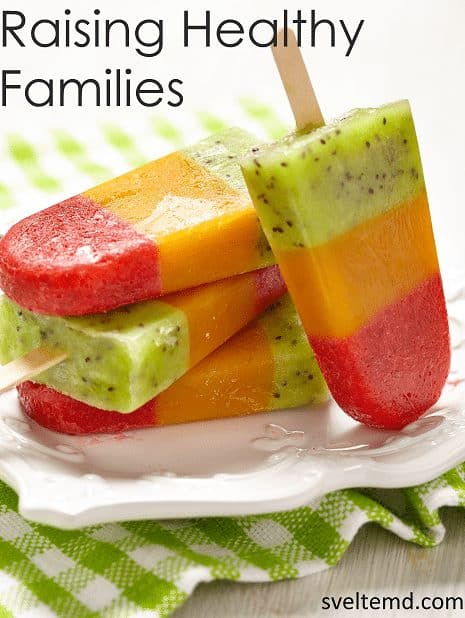 Grow a Healthy Family
The decision to live a lifestyle of healthy food and regular exercise is one of the best choices you will ever make for yourself. However, maintaining this new lifestyle is definitely a challenge, especially if your family isn't on board with you. If your children see you eating oats for breakfast and fish for lunch and they think that food is gross, they aren't going to want to have a part in living healthy. So how do you get your family to be healthy with you? You give them what they want.
By that we don't mean if they want cake for breakfast, you give them cake. We just mean, make healthy foods that appeal to everyone.
Healthy Family Tips
If healthy eating means "Mom is throwing away all the good stuff" then your kids aren't going to want to have a part in it. The key to transitioning your family from junk food lovers, to healthy eaters, is stealth. Change what they are eating, but make them think they're still getting what they want.
1. Make dessert: Everyone loves dessert. Just because you are now eating healthier, doesn't mean you must ban dessert from your home. The key is finding a "clean" recipe and serving smaller portions. If you don't know where to find clean recipes, there are plenty on Pinterest. Here's one of our favorites.
Chocolate Mint Fudge
Ingredients:
1 Cup Plain Pumpkin Puree
1/4 Cup Natural Cocoa
*2 Scoops Chocolate Protein Powder (Optional)
1/8 Cup Honey (you can use agave, maple etc)
3 Packets of Stevia
1/3 Cup of Natural Plain Cashew Butter
1/3 Cup Dark Chocolate Chips
1/2 Tsp Mint Extract (or peppermint)
Directions:
1.    Blend all ingredients (except chocolate chips) in a bowl with a spoon until smooth. Having your nut butter at room temperature helps this process go faster.
2.    I used an 8×8 baking pan. First I took cling wrap and covered the bottom and sides of the pan. Then I added the batter on top.
3.    Top with chocolate chips evenly.
4.    Then I took another sheet of cling wrap and covered the batter. This is easy, less messy and I do not have to fight to get the fudge out when I am ready to serve it.
5.    Place in freezer over night.
6.    Remove from freezer and cut into 12 squares. Serve immediately. Keep the cut fudge covered in the freezer until ready to eat.
7.    This is a cold treat.
2. All chips aren't bad: If you have "snackers" getting rid of foods like chips might be difficult. However, there are plenty of alternatives to chips that kids often love such as: banana chips, kale chips, apple cinnamon chips, or zucchini chips. If none of these appeal to your child, kids often love eating edamame. The saltiness and the fun of squeezing the bean out of the pod makes this healthy snack fun! Here is one of our favorite "chip" recipes.
Apple Cinnamon Chips
Ingredients:
1 teaspoon grapeseed oil (or other cooking oil)
1 medium apple (any variety), thinly sliced
1 teaspoon cinnamon
1 teaspoon sugar
Directions:
Preheat oven to 200 degrees and lightly coat a baking pan with grapeseed oil. Place apple slices on pan and dust with cinnamon and sugar. Bake for 2 to 3 hours until dry, lifting slices every hour so they don't stick. Remove pan from oven and let rest for 5 minutes.
3. Make fun new things: Try making things that are both healthy and enjoyable, like smoothies or popsicles. These will keep your children refreshed and energized while pleasing their taste buds! Let your kids help while you make them to get them more involved in healthy changes. Here is one of our favorite healthy smoothie recipes.
Strawberry Orange Smoothie
Ingredients:
1 1/2 cups vanilla soymilk
1 bag (10 oz) frozen organic strawberries, partially thawed
1 medium banana, cut into chunks
1/3 cup calcium-enriched orange juice
Honey, if desired
Directions:
Step1 In blender or food processor, place soymilk, strawberries, banana and orange juice. Cover; blend on high speed about 1 minute or until smooth. Sweeten to taste with honey.
4. Revamp recipes: Instead of getting rid of all of your families favorite dinner recipes and starting from scratch, try revamping them! Swapping out bad ingredients for good ones makes a huge difference on the overall nutrition of the meal.
Weight Loss Help
Making the decision to live a healthy lifestyle is the perfect start to losing weight. For more weight loss help contact Svelte Medical Weight Loss of Orlando. The doctors at Svelte will help you create a weight loss goal and help you to lose weight fast. For more information visit sveltemd.com.