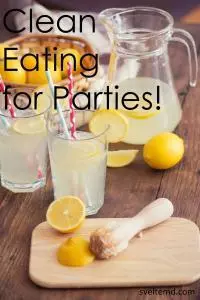 You Can Have a Clean-Eating Party!
Why do you eat clean?
It's good for you. It keeps toxic chemicals out of your body. It aids in weight loss. The list goes on and on.
Once you become aware of all the benefits of clean eating, everything else just seems…wrong. Why would anyone knowingly put harmful chemicals and ingredients into their body? But, just because you have personally decided to live a healthier lifestyle does not mean all of your friends and family have. This can be a bit problematic if you are planning on hosting a birthday party or any other type of get-together. So how does one throw a part while sticking to their healthy lifestyle?
Clean Eating For All
You could always opt for the obvious route of making yourself a clean meal and letting everyone else eat the junk food they love. But in our opinion, that just seems wrong. You can't feed the people you love harmful foods and drinks! We have a few clever ideas on what to serve at a get-together without breaking the bank or your moral compass.
Every party needs four things: snacks, a main course, dessert and drinks. Now let's talk about what will be on the menu.
Snacks: Snacks are the easy part. Set out a few bowls or a couple trays of fresh, sliced fruit or vegetables. If you opt for vegetables guests will more than likely want a dip or sorts. Hummus is a great choice as it is healthy and well-liked. If you opt for fruits, try a yogurt dip! You could also set out a GMO free bag of pretzel crisps or kettle chips to give your guests a few options to choose from.
Main course: For the main course we have a couple of options. If you are hosting a more casual party you could opt for organic uncured turkey or beef hotdogs. If hotdogs are a little too casual for your taste you could serve organic turkey burgers. Depending upon how you season them and what you serve them with, turkey burgers have the potential to be a party hit! Another affordable option could
Dessert: Don't skip the dessert! There are a million and one recipes for "clean desserts". Cupcakes are always a wonderful choice as they look adorable, and you wont have to worry about cutting cake or serving ice cream to each guest. We have a great recipe for chocolate cupcakes:
Ingredients:
1 cup Spelt Flour
3/4 cup plus 2 Tablespoons Cocoa Powder
1/4 teaspoon Baking Soda
2 teaspoons Baking Powder
1/4 teaspoon Sea or Pink Salt
3 Tablespoons Earth Balance Butter, softened
1/4 cup Applesauce
2 Tablespoons Flax
1 1/4 cups Coconut Sugar
2 teaspoons Pure Vanilla Extract
1 cup unsweetened Vanilla Almond Milk
Directions:
In a small bowl, mix the applesauce and flax together. Set aside. Line a cupcake pan with liners. Preheat the oven to 350 degrees. In a mixing bowl, sift together the flour, cocoa, baking powder, baking soda and salt in a medium sized bowl. Set aside.
In a large bowl, add butter, applesauce and flax mixture and coconut sugar. Mix until well combined. Add the vanilla and mix. Add the dry ingredient mixture to the wet mixture, alternating with the almond milk. Mix until combined, but be careful to not over mix. The batter should look like a chocolate pudding.  Fill the cupcake liners a little more than 3/4 the way full. Bake at 350 for 12 to 14 minutes. Let cool10 minutes before removing from the pan and at least another 5 before frosting.
Drinks: Instead of buying a hundred sodas and water bottles and dumping out half of the drinks at the end of the day any way, make drinks! For the kids make a mixture of organic lemonade, cranberry juice and gingerale. It's sweet and fizzy which children love. For adults serve fresh tea or lemonade. Allow guests to serve themselves a cool glass of water filtered straight from the refrigerator.
Weight Loss Help
Have you recently made the switch to clean eating in order to lose weight? If you are struggling to lose weight contact Svelte Medical Weight Loss. The experts there will help you create a weight loss plan that works for you. Call Svelte today to set up your first consultation.